Tune Into the Trees
It is not uncommon for a person in the midst of a BQH session to meet with, or find themselves presenting as, a different life form. As a practitioner it is always fascinating to discover unfamiliar perspectives and insight that we don't normally have access to. Unlike some of the Galactic life forms that can feature in sessions, the one I will discuss today exists on the same planet as us. It is the spectacular, majestic, yet humble tree.
Like most things in our environment, today we are taught to see trees from a functional standpoint: in grade school we learn about how they provide oxygen and are an extremely useful resource that can be used for everything from houses to paper. And yet for so many of us they are much more; we sense trees go way beyond functionality into a realm of secrecy and magic. Humanity's history has been deeply intertwined with trees since our beginning. As children we climb in them, we play in their leaves and daydream in their shade. In our tales they individually speak to us, and collectively as forests, embody our terrors, intrigue, or enchantment.
The first time a client identified as a tree in a session I was slightly taken aback. She was describing the landscape around her. When I asked her where she wanted to explore she answered, "I don't think I can move." When I asked her what her feet looked like, she answered, "I don't have any feet." Curious about her experience of self, I asked her what she could tell me about her vessel. She paused, and then exclaimed quite joyfully, "I think I'm a tree!"
After a moment of tuning into herself she went on to describe how she could feel every cell of her being; the solidity of her trunk, the delicate movement of her leaves, the different temperatures of the soil, and each tiny root filament reaching out moving towards molecules of water. As she was sharing her experience tears began to roll down her face from her closed eyes. When I asked if she was ok she reported that she was in a state of ecstatic joy. She explained how each cell felt like it was flowing perfectly. There was no need to think about what she was doing because she trusted that every cell knew exactly what it needed to do; she felt in complete alignment with the whole universe. She experienced the pure acceptance that came with her growth; understanding without judgement that some branches would extend and others would die and fall away. She could feel the damp richness of the soil that nourished her roots with nutrients that came from decomposition, and the warm love that poured forth from the sun, gently coaxing her to grow and expand. Balanced between heaven and Earth, she radiated incredible peace.
Since that first time I have had several clients who had chapters of their journey that revolved around trees. Trees can surface in sessions as symbols for strength and grounding, with clients encouraged to recall a particular tree from a session when they need to feel the associated qualities in everyday life. Another interesting occurrence involves clients who discovered parallel lives as trees. Like the first client, they described a heightened sense of aliveness, a feeling of being intimately connected to the entire universe, as well as how time moves differently. From a point of seemingly timeless stillness they were able to observe buildings and people rise in freshness and then dissolve into decay.
A final interesting perspective was shared in a recent session. This client's guides explained that as the Earthly version of herself embodied more of her multi-dimensional nature she would likely experience moments of confusion. I asked her what could help her to integrate this awareness into everyday life. Her higher self suggested that trees would assist. She explained that trees are our brethren, our kin, but that we have largely lost our connection. She went on to say that trees are gateways to other dimensions, and have access to the deepest archives of Gaia's wisdom. She shared that trees, like people, have chakras. These chakras are like portals to the secret world of trees. Sensitive people can learn to sense chakras and connect with them to access the profound secrets of nature for which trees act as custodians. However, she added that it requires more than just hugging a tree to connect. Like people, trees want to feel a real connection before they will divulge aspects of their deep inner mystery. Like any relationship this takes time to develop; trees want to feel seen and appreciated and will form strong bonds as trust and respect grows.
I feel overall these are great reminders about how, in this era of digital information overload, trees wait patiently for us. By connecting with trees we can tap into a level of reality that goes infinitely deeper than the fast pace hype and drama that is so prolific in our reality. Their perspective, which focuses on being rather than obsessive doing, reminds us of the importance of slowing down, of grounding, of embracing the light and the dark aspects of ourselves, and exploring the depth of our interconnection with the world around us.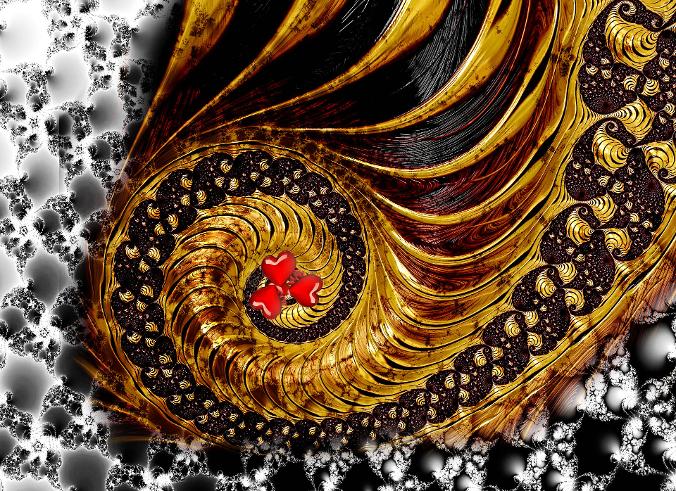 May 11 2020
Radical Acceptance - The Dance of the Dark and the Light
If I had to pick one message that came through most frequently in sessions it would be about the power of acceptance. In the expanded state of consciousness clients consistently express that the key to living their best life isn't through pushing or forcing, rather it is through allowing and accepting. I'd like to share two interesting ways this same message has come through.
In one session the client was observing a tribal group of people who lived in a tropical paradise. She was awed, and moved to tears, by their profound joy and connection to their environment. When I asked her what the secret to their happiness was, she answered that it was because they were able to accept life as it was; they didn't feel a need to try and influence, control or change things. They understood the impermanence of experience and were able to just allow life to flow and unfold naturally. They didn't perceive themselves as separate or above all that was around them.
This similar theme was also strongly expressed in another client's session. Her intention was to experience the wholeness of her being and face her darkness. She found herself immediately experiencing a state that she described as infinitely expansive. She felt whole and free.
She described a wellspring of forms flowing forth. The point of creation, or the ground of all being, she called it. There was a sense of deep peace that pervaded the experience. There were dark and light forms that emerged in a beautiful, fluid, flowing dance.
Then she noticed thatwhen she focused on the dark aspects of the dance she felt fear because of her judgement about the dark. She observed how her judgement energized the dark forms; her fear solidified them. The more she focused on them with concern, the more they grew. She watched her fear turn molehills into mountains. The dark forms and her fear fed off each other.
But in this expanded hypnotic state she was able to see when she was able to let go and not attach, not try to control or influence the flow of creation, the darkness returned to being just part of the beauty of the whole. When she moved into a state of allowing and acceptance, she was able to flow with the point of creation, the point of infinite expansion.
She could see without the labels and judgement (dark/light, good/bad) it was all just the same stuff, the same energy, dancing in the most harmonious flow of perfection; the light and dark just unfolding in a gentle divine cascade.
From this space she was able to see that there was actually nothing to fear. There was a sense of harmony with all. There was no separation, yet each part was whole in itself, and a part of the whole itself. There was no need to do anything or be anything, except for a part of the unfolding beauty. The less one tried to judge or influence, the more beauty flowed undistorted. No need to convince anyone, no need to be a master or martyr, no need to play any role at all. All she needed to do was be her most authentic self. The divine beauty is there at heart, we just need to allow it to flow.
If we could cease judging, cease wanting to cling to the light and reject the dark and learn to accept whatever enters our reality with serenity and equanimity, we would be returned to a state of grace.
This of course is challenging as our reality is so saturated with fear; so much darkness has become energized and become solid. There is so much presenting around us that our judgement tells us needs to be controlled, managed or suppressed. But what these higher aspects of ourselves are trying to remind us is that the key to lessening the darkness isn't to fight it, it is to accept it, not with apathy or indifference, but with the fullness of our hearts. We need to go deeper, to find the fear, the wound that lies beneath, and LOVE that part back to its natural flowing (non-dense) nature.
As the energies continue to intensify, I suspect we are going to see more contrast between the light and the dark. I feel this is likely why this message is coming through in so many ways… the next little while it will become more important than ever not to get caught up in the drama, or energetically dragged down by any old suppressed darkness that comes to the surface. The more we are able to maintain a space of expansive love without judgement the smoother this journey of returning to a state of grace will be.
April 4th 2020
BQH - Why Online sessions work so well
I held off offering online sessions for a long time. My concern was that connecting through technology would lose something. Exactly what that something was, I wasn't sure. It felt like something personal, indefinable, something human.
Eventually though, wanting to reach more people, I decided it was time to explore the online possibilities. So, after a few practice Zoom calls I reached out to someone I knew online, a person my internal guidance system told me would be ideal for testing the waters. I had never met this woman; we had only interacted through a common Facebook group. She had previously had a QHHT session with a different practitioner and was keen to try an online BQH session.
When we began chatting in the virtual Zoom meeting space I was pleasantly surprised at how quickly we were able to establish a true heart connection. Then, when we got to the deep work things really quickly started to get exciting. The session was incredibly powerful and the information that came through was so rich and relevant, not only to the client, but to the collective. (Her summary can be read here: Christina Lavers Coaching )
Since that first online session I went on to hold online sessions with people all over the world and quickly discovered that that initial session was not an anomaly: every session worked amazingly well.
With time I found I had even come to prefer online sessions because the results were consistently so amazing. But I was curious why this would be the case. After some contemplation a few answers surfaced.
I believe the first aspect of online sessions that contributes to its success is the fact that people are in their own space. When we enter an unfamiliar environment part of our brain naturally becomes alert as it establishes whether there is any danger. No matter how beautiful, cosy, and serene the space may appear, if it is unfamiliar our brains will need to establish safety. How vigilant we are will depend on how safe we feel in the world based on past experiences. But, when people are in their own homes they already feel safe and comfortable and so will not need to process their surroundings. The unknown factor is removed. With in-person sessions I find the amount of time it takes people to find their flow differs, while online sessions seem to begin flowing almost immediately for everyone, and this may partially explain why.
The second important factor in online success I see is the fact that the practitioner is not physically in the same space as the client. When the practitioner's voice is coming through technology it is somehow more abstract and removed from the physical, as though it is coming through the ether. This helps the client shift their awareness beyond their physical surroundings to the deep space where the magic happens.
A final explanation that came to me was the fact that BQH is energy work, and of course energy is not limited by physical space. A person's spiritual team can prepare the energetic space no matter where they are physically located. Similarly the client and practitioner's energy can connect through the heart just as effectively on the other side of the planet as in the same room. After all we are working in the quantum field where time and space do not follow the same rules as the physical realm.
This brings us back to my initial concern that something would be lost with online sessions, something I was only able to define as humanness. I now wonder if this might be exactly why online sessions work so well, as BQH sessions are largely about going beyond our humanness.
Right now as so many of us are confined to our homes, the time for self-exploration and personal growth is ripe. Many have reported that they feel a strong pull to go within and for those who have not spent much time focusing inward this can feel disconcerting. Since BQH is an extremely safe, gentle, yet powerful tool for healing and self-awareness, online sessions are a perfect way to embrace current circumstances.
When you combine these insights with the fact that practitioners don't need to wash bedding, prepare a physical space, can be flexible from where they operate, and can even surreptitiously wear goofy slippers, it is no wonder online sessions are becoming increasingly popular among both clients and practitioners. Christina Lavers
Posted on 03/10/2020 Dots
When the Darkness is Ready to Heal
As planetary frequencies increase we are being nudged to heal and/or release that which is no longer a vibrational match. In the last year several clients have had information come through their sessions that describes an unveiling; a revealing of all that has for so long been hiding in the dark. This period is described as an uncomfortable period for humanity, a time when our fears both individually and collectively are triggered; a time when the status quo is shaken to the foundations. The good news is that this is a necessary stage that will allow us to heal by bringing the light of awareness where it is so urgently needed.
In a session last year one client described this coming period as a 'collective dark night of the soul'. I feel this stage is now lapping on the edges of our reality. In the external mirror of our outer world we can see the signs of this stage beginning. For those who know what to look for, the cracks are appearing in the mainstream façade as some of the deep ugliness spills out into general awareness.
Another client offered some awesome encouragement about this period. She said, "Initially this process of correction will appear chaotic and might feel frightening, but as a higher divine order begins to emerge this same process will begin to feel incredibly magical and exciting."
One common message that has come through is that while the revealing stage of transformation won't be fun, it will be swift. However, It is important to note that in the quantum field awareness that clients embody during sessions, time does not exists in the linear way that we experience it in daily life. And a timeless being, or version of self that exists beyond 3d reality, may conceive of 1000 years on Earth as a moment in time. So what exactly 'swift' means in terms of a time period is really anyone's guess.
I have long been a big believer in the importance of shadow work. Finding and integrating lost and rejected aspects of ourselves creates such powerful healing and expansion. However, a bit more than a year ago I felt called to look into ways of dealing with entities, just in case. These are energy beings that are connected to us but don't carry our soul signature, and therefore cannot and should not be integrated. Honestly, I don't love this area. I much prefer witnessing magical experiences that involve beings of incredible light and wisdom, but I figured it would be useful to know what to do if I ever encountered this phenomenon in a session. I bought several books, including my favourite, Spirit Releasement Therapy-a Technique Manual by William J. Baldwin. I love this one because it uses a loving approach in which all parties win, and on the few occasions I was called to use it, this technique worked beautifully.
Recently this darker side of the quantum field has returned to my awareness. Themes of fear, shadows and entities have been coming through in some people's sessions; often enough that I'm paying attention.
When these patterns emerge I see it as a form of communication. The dark is indeed coming up for healing and some of us are being called to hone our skills and get more comfortable with the darker aspects of our work. Not everyone will resonate with this information and this is the way it should be. We all have different roles here and the more we are able to recognize and honour our own inner knowing, the better placed we will be to step up and do what we came here to do.
Tips for clients:
The more we heal our own internal darkness the less we will be triggered by darkens we see in our external world.
Trust that only that which is ready and capable of healing will present in a session.
As much as we sometimes want to hurry the healing process, pushing and forcing creates tension and contraction. Healing happens when we feel safe to expand.
Know that practitioners have strategies and tools to ensure that you don't experience overwhelm in a session. For example if something feels too much your practitioner can ask you to step back and become the observer, or they can wipe the scene and move you to a less confrontational healing experience.
Make sure you have great communication with your practitioner. They are there to ensure that you feel comfortable and safe throughout the journey.
For those who feel they may have severe or complex issues there are practitioners who have been doing this type of work for years and are highly skilled at high level dark energy and shadow work.
Posted on 03/02/2020
Unfolding Perfection - Trusting the Process
It can be daunting to embark on a journey with no road map; no plan or agenda. Schedules, formulas and recipes can make us feel safe and in control.
The structure acts as an assurance that we will reach our final destination. However, when we are willing to let go and trust the process something magical happens. We make room not just for high frequency divine intelligence to weave itself into the structure, but to create the structure itself.
This is one of the beauties of BQH sessions. We can have no idea how a session is going to unfold and yet, as long as we can hold space in a state of trust, we can be sure that the magic will happen.
Sometimes it may seem as though the journey is unfolding in a way that doesn't make sense, but experience will show us that as long as we continue to trust we will eventually be amazed at the intelligent and miraculous way it all comes together in the end.
For example, in a recent session a client found herself in what she described as a cowboy town in the old West. When she left the town and moved on to a new scene, she discovered that a horse had followed her from the town. She felt no connection to the horse and didn't understand why it was with her. When I suggested that she speak to the horse and ask why it was there, the answer that came was 'comfort'. Though she didn't feel that she needed comforting she accepted the horse as part of her journey. It followed her into every scene, even ones in which its presence seemed absurd.
Then, toward the end of her journey, she met herself as an angry child. This inner child self was convinced that she was broken and could never be fixed. Even when the client's higher self attempted to connect with her, she was adamant that no 'adult talk' would be able to convince her that she could heal. She was so thoroughly sure of her 'wrongness' that it felt as though we had reached an impasse. At that point I assured the child that we would not push or force her to do anything, and then asked if there was anything at all that she wanted. After a few long moments of consideration the child answered, 'the horse'. Both the client and I were amazed by the answer. Suddenly it was clear why the horse was there.
Intuitively I could see the horse was a vehicle through which the divine could meet and sooth the child. Like a pebble dropped into deep waters, the healing effect would ripple out from this important point of connection. The horse was there to initiate the process of melting the barriers the inner child had created that kept her disconnected and wounded.
With every session it becomes easier and easier to accompany the client on their journey without feeling the need to impose perceived directions or solutions. By letting go and remaining curious we invite a higher more sublime force to orchestrate the client's journey in a way that would be impossible for us in our limited human form to accomplish.
Tips for building confidence in trusting the process:
Meditating before a session can help us to feel centred and connected, making it easier to remain calm, confident and open, even when we have no idea where we are being led.
Be aware of unhelpful thoughts (e.g. judgement, worry, etc) that come up throughout the session and learn to nip them in the bud. An affirmation such as, 'I choose to trust the process' can be helpful, especially in the beginning. Eventually it will become second nature as confidence in the process grows.
Make sure the client also understands the importance of 'trusting the process'. This will help to ensure their rational mind doesn't try to step in when something happens that they don't understand.
Welcome the unexpected. When something pops up in a session that doesn't seem to fit, encourage the client to explore it and see where it goes.
Accept that sometimes clarity and aha moments won't happen immediately. Sometimes only when the client listens to the recording at a later date will some elements become clear.
Expect wonderfulness. Letting go of any expectations is fundamental for both practitioners and clients. But when we expect wonderfulness, without holding on to specifics or outcomes, we create a strong, potent space for the experience to unfold in.
Christina Lavers
Copyright christinalaverscoaching